Club History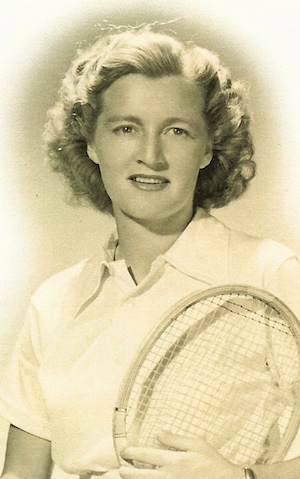 A brief history of the Edgemoor Club
It has been said that the history of the Edgemoor Club is practically the history of the top level of tennis in the Washington, DC area. From its modest beginnings in 1920 through the present day the Edgemoor Club has served both as a neighborhood swim and tennis club for residents of the Edgemoor and nearby communities and as a leading tennis club, drawing top-level players from all over the metropolitan area.
Before 1920, the visionary developer, Walter E. Tuckerman, purchased a large farm, subdivided it and reserved the central block for a sports center for the residents of the new community called Edgemoor. By 1920 Mr. Tuckerman had built two tennis courts in an open field and sold the whole block to the residents while holding the mortgage for most of the purchase money. The idea of getting an old street car for a clubhouse was abandoned, but, for that first year, residents built a small grandstand and a sturdy framework over which was stretched a shade awning. The Club initiation fee was $25 and annual dues were $15.
The Club was incorporated in 1922 with 20 resident members and an $11,000 budget to cover purchase of land, a pool and dressing rooms. A small frame clubhouse and a swimming pool (75' x 25') were built. Soon after, two more tennis courts, a practice backboard, bowling green and putting green were added. During 1922 and 1923 there were lady Board members, an indication already of how far ahead of the times the Edgemoor Club was.
The financial plight of the Club dominated most meetings during the late 1920's and 1930's. To raise money, the property along Edgemoor Lane between Exeter and Denton Roads was sold off. In 1929 the Dumbarton Tennis Club in Georgetown had the land sold out from under it and its members moved en masse to Edgemoor. Membership was raised to 100 in 1936 and 35 tennis memberships were made available to leading players from D.C. and Maryland. Some of the outstanding players from the public parks (such as " Montrose Park" in Georgetown and "16th and Kennedy") were offered Edgemoor memberships at reduced rates, which brought in some of Washington's best tennis talent: a future National Public Parks champion and perennial Middle Atlantic, Maryland and D.C. champions among them. Some of those members, whose names might be familiar to the present membership are: Ralph "Buddy" Adair, Charles Channing, Col. Mariano A. Erana, Anthony "Tony" Latona, Hugh Lynch, M.G.M. Martinez, Dennison L. "Dooley" Mitchell, Frank Shore, and Barnard "Barney" Welsh.
These top players found a challenge at Edgemoor; the five clay courts were overgrown with weeds, the water bills and taxes were delinquent, and nearly everything was run down. During these difficult times there was no money for hired help. The court maintenance was done by the members, primarily Strand Johnsen and Chester Adair. Strand had never played tennis but when his son Davey was given a racquet at about age 10, he bought the best instruction books and taught him sound strokes that resulted in Davey becoming a top player. Chester's son Buddy Adair became the teaching pro. By the late 30's the Edgemoor Club was well known for the quality of tennis played there.
In 1942 the first tennis pro, Tony Latona, was hired. By 1946 there were 170 members and the two back courts were added, making a total of seven. [The eighth court was not added until the 1970's when the old green wooden canopy next to Court 2 was moved behind Court 5, making room for the present Court 3.] Pool directors were women during those years.
Edgemoor hosted the first "City of Washington Tournament" in 1949. Two years later, it became a truly "open" tournament when Hal Freeman, a black American, played against John Harris, and for a number of years Edgemoor was the only private club in the Washington metropolitan area qualified to hold sanctioned tournaments. The Greater Washington Tennis Association and Middle Atlantic Championships became regular events at Edgemoor until those tournaments outgrew the club facilities. In 1952 the former North Carolina star, Clark Taylor, was hired as Edgemoor's professional and, quoting from Bob Alden, Clark was "the individual most responsible for the brilliant surge on the national tennis scene of young players like Donald Dell, John Harris, Donald Ralph, Carol McCord, Mary Kuhn, and Andy Berger".
The club's most famous pro, Wimbledon champion Pauline Betz Addie, came to Edgemoor in 1955 and stayed eight years. In those days, watching high caliber tennis was an everyday occurrence at the club, and credit is given to Clark and Pauline for much of it. In 1953 members watched in awe as the great Bill Tilden gave a clinic on Court 3. The next year Edgemoor hosted a Pro-Am round robin and an exhibition between Vic Seixas and Tony Trabert which attracted 2500 spectators. In 1959 Fred Perry and Ham Richardson conducted a clinic and put on an exhibition.
With open tournaments being hosted at the club, the issue of African Americans playing on Edgemoor courts was met " head on" in 1956 by Club President Thornton Moore, who provided the leadership to insure an "open door" policy which was supported by a 5 to 1 majority when put to a vote.
The old frame clubhouse was demolished in the fall of 1956 and the present clubhouse completed the following spring. Membership was increased to 250. During 1963, a new pool and bathhouse were completed and a program was begun to rehabilitate the tennis courts. There were 290 members.
Junior development was always important at Edgemoor. In 1942 the first Junior Tennis Membership was awarded to a player with "unusual promise", as a way of promoting championship level tennis. In 1960 the first Edgemoor Boys Invitational Tournament was held. The best players in the section were invited without regard to race, color, creed or national origin. Highly ranked juniors from other sections were regularly included and many out of town entrants were guests of Edgemoor members. This tournament was one of the largest in the area and continued until the 1980's when indoor tennis changed the tournament schedule significantly.
The status of Edgemoor escalated when it held the National Seniors and Father-Son Clay Court Championships in 1961, '63, and '67. The Father-Son champions in 1961 were Edgemoor's own Hugh Lynch and son, Hugh III. Hugh senior is honored each year by a memorial tournament between his two clubs, Edgemoor and Columbia. Also in this decade, Edgemoor's Donna Floyd won the U.S. Clay Court title, and Donald Dell was Captain of the Davis Cup Team.
In 1965 thirteen Edgemoor junior players made headlines on sports pages nationwide when they withdrew from a USTA Sanctioned Boys Tournament in Richmond. One of their tennis colleagues who had frequently played at Edgemoor was denied the right to play his first round match because he was African American. There is no doubt that this one event caused the USTA to reconsider it's handling of tournament sanctions and affected the future of American tennis.
Edgemoor member, Walter Nordlinger, can be credited with the beginnings of the Washington Area Tennis Patrons Foundation whose mission was to get tennis into the parks and recreation centers and available to African American youngsters. Following this, two members, Donald Dell and John Harris, were instrumental in the development and growth of Washington's first major professional tournament. The event has become a highly-respected part of the World Tour, bringing many of the best players in the world into competition in a public parks setting. Edgemoor has continued to provide volunteers, equipment and hospitality to support what has become a major part of the area sports calendar.
By 1970, the club had grown to 290 member families and there was a long waiting list for anyone living outside of Edgemoor. The Club's Bylaws were amended in 1970 to insure that no applicant would be barred because of race, religion or color.
As the Club advanced into middle age in the 1970's, it began to support junior vet and senior tournaments. An Edgemoor member originated the Atlantic Coast Senior Team Championships which Edgemoor hosted for years. The Sears Cup for women was also held at Edgemoor.
During the 1983 season, a pool-rebuilding program was completed and a sprinkler system installed for the tennis courts.
2012 brought the addition of a new clubhouse. The new swimming pool was built in 2014.
In 2021 the tennis courts underwent a major renovation with the installation of underground watering.
After 102 years of growth and change, the Edgemoor Club, although surrounded by a residential neighborhood and just minutes away from downtown Bethesda, has retained both its neighborhood character and its national reputation for fine tennis. It is a wonderful oasis where the joys of tennis can be experienced. shared, and passed on from one generation to the next.
[NOTE: This history, written by Dolly Rasmussen, is based on Edgemoor files including historical notes by Minerva Bassett and Lincoln Daniels, original research by Marren Meehan, and contributions by Josephine Sherfy, Charles Channing and Davey Johnsen.]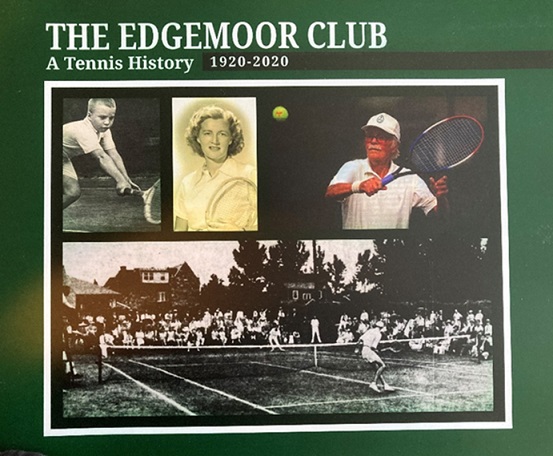 Click here to view The Edgemoor Club A Tennis History 1920-2020